College of the Desert Street Fair
Found in Attractions, Shopping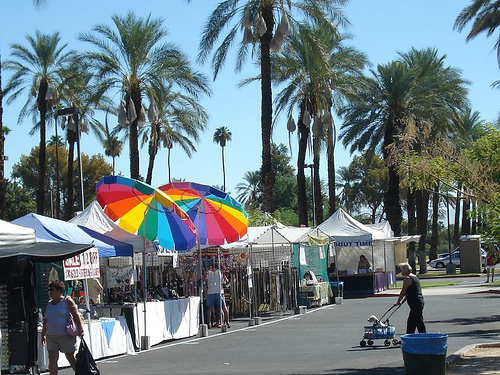 College of the Desert Street Fair is an open air fair that offers tons of exciting deals to indulge in. The street fair has everything under the sun from clothing, golf merchandise, unique handmade jewelry, watches, patio furniture, artwork, Mexican Talavera, handbags, belts, hats and beachwear, as well as restaurant stands and a farmer's market. For those who know exactly what they want there is an information stand where you can grab a map and locate the items you want to buy.
Experience the different cultures that are a part of the street fair. Listening to the steel drum band and drinking lemonade slushies will allow you to relax and enjoy the variety of vendors that are available. You can treat yourself to a variety of diverse food with every booth offering something new and inventive.  Be prepared to walk outdoors and potentially long distances, but it's all worth it.
Parking is ample and if you can't get a close spot you need not be concerned; there are shuttle services to take you back to your car. The street fair is held every Saturday and Sunday and even offers cash on delivery facility.   Head to the fair this weekend and enjoy a fantastic fun filled shopping experience.
43-500 Monterey Avenue
Palm Desert , CA 92260
Reviews:
College of the Desert Street Fair
32 reviews
Map: