SpurLine Video Lounge Palm Springs
Found in Gay and Lesbian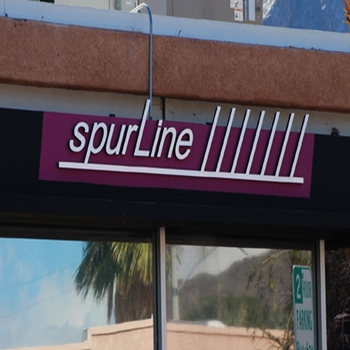 The SpurLine Video Lounge One of the hotspots in the Palm Springs East Arenas Road gay nightlife district, Spurline Video Lounge at Indian Canyon Drive is a friendly guys' bar drawing a mostly 30-and-up crowd of guys into karaoke, videos, drag shows, and dancing. Don't miss nightly specials including Two-For-One Nights!
SpurLine Video Lounge playing 50′s, 60′s, 70′s, 80′s, sports. Thursday Karaoke and popular Saturday showtunes nigh are imagining entertainment at SpurLine Video Lounge. SpurLine just loves to share its music. Whether it's a fun (and occasionally painful) night of open mic karaoke, a live show with performers ranging from camp drag to borderline opera, or a night of Broadway and movie musical videos from its deep and wide collection of both old and new, Do-Re-Mi is SpurLine's gimmick.
Jim Osterberger and Michael McCartney, personal and professional partners, opened SpurLine in 2005, replacing a less salubrious establishment at the corner of Indian Canyon and Arenas—the heart of gay Palm Springs Jim, having worked for Sidetrack Video Bar in Chicago for 14 years, and Michael, a systems design engineer, decided to pay homage to Sidetrack and create a bar with a similar format in the desert. The rest is history. The co-owners are very civically minded, deeply committed to the LGBT community, and totally hands-on proprietors.
200 S Indian Canyon Dr.
Palm Springs, CA 92262
(760) 778-4326
Reviews:
SpurLine
45 reviews
Facebook:
http://www.facebook.com/pages/SpurLine-Video-Lounge-Palm-Springs/113294742110
Map: