Thanksgiving Dinner Served at Restaurants in Palm Springs 2011
Found in Events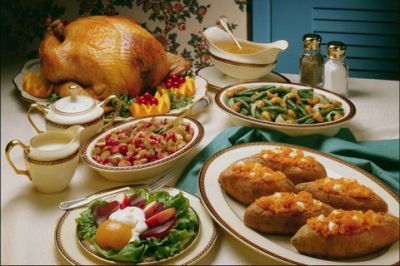 Thanksgiving Day is a day for everyone to celebrate with family and friends.
Each year, the number of families choosing to go out for Thanksgiving is growing, and the restaurants in Palm Springs are offering Thanksgiving, all with their own delicious styles!
From BBQ to all natural organic dinners, there is something that will satisfy everyone's taste buds and appetites!
Of course, many of the restaurants in town are offering a very traditional Thanksgiving Dinner.
And of course, the best part of eating out is …. no long hours cooking and no doing dishes or cleanup!
So if you're coming to town next week, make sure you make reservations and enjoy your holiday here in our beautiful city.
Here is a list of the restaurants that will be open for Thanksgiving. If you're not on this list and you are a local restaurant owner, please contact the webmaster.
All-Natural Thanksgiving Dinner at The Tropicale in Palm Springs
Thanksgiving is just around the corner and this year, we'll be serving our special Thanksgiving Dinner featuring all natural meats and fish. We'd love to cook for you. Three course dinner $48. Children's (under 12) Turkey Dinner with Dessert $ 16. Come and join us for an all-natural 3-course Thanksgiving Dinner because we'd love to cook for you. For reservations, call (760) 866-1952.
Desert Willow Golf Resort in Palm Desert
Bring your family and friends to Desert Willow Golf Resort for an unforgettable Thanksgiving Day buffet. Treats include soups, salads, appetizers, pasta and carving stations, an entree buffet station and of course their delicious desserts featuring Assorted Cakes, Pies & Pastries.
Thanksgiving Buffet Menu. Thursday, November 24, 2011
Southern Charm at Babe's Bar-B-Que in Rancho Mirage
Football, Beer and Turkey are the stars on Thanksgiving at Babe's Bar-B-Que Grill & Brewhouse at The River in Rancho Mirage! The restaurant will be opening its doors on Thanksgiving this year offering a Two Course down home Thanksgiving Dinner plus our full regular Dinner menu, Lot's of Football and a ton of Southern Fun! For a down home family Thanksgiving, a place to catch a bite before or after a movie or to watch some Thanksgiving day football with micro-brewed beer come on down to Babe's Bar-B-Que Grill & Brewhouse at The RIVER in Rancho Mirage. Thanksgiving Day Hours Noon to 7 p.m. For more information call 760-346-8738. Cost $29. Per Person.
Martha's Village & Kitchen's Thanksgiving Day at La Quinta Park
What a great way to spend your holiday, helping others! Martha's Village and Kitchen is hosting a 5K Fun Run to raise money to feed the hungry and homeless in the Coachella Valley. All participants receive a quality event t-shirt and complimentary continental breakfast. Ample free parking. Strollers, wheelchairs and pets are welcome. All proceeds benefit Martha's Village & Kitchen and goes to feeding the hungry and homeless.
Thanksgiving at the top of the San Jacinto Mountains is a great way to spend the day! The first Tram that's going up on Thanksgiving Weekend, Nov 24-27, will be at 8am, and the final Tram up for the day will be at 8pm and last Tram down will be at 9:45pm. On Thanksgiving Day, Nov 24th, Ride 'n' Dine combination tickets, which include Tram admission and dinner at the Pines Café, a cafeteria-style restaurant, will be available for purchase beginning at 8am. Dinner will be served from 11am until 8:30pm. Tickets for the combination are $36 adults and seniors and $23.50 children ages 3-12. A holiday menu will be served. Peaks Restaurant will serve an all you can eat buffet from 11am to 7:30pm. A holiday menu will be offered. Cost of dinner is $50 adults and seniors and $25 children ages 3-12. Tram admission, gratuity and tax are not included. Reservations are required please call 760.325.4537.
The Lake View Restaurant at the JW Marriot Desert Springs Resort in Palm Desert
Thanksgiving Day Brunch & Dinner Buffet at the JW Marriott Desert Springs Resort will be served starting at 11:00 am and going until 8:00 pm.  Join them for a wonderful Holiday Brunch and Dinner.
Wally's Desert Turtle in Rancho Mirage
You and your family are cordially invited to spend Thanksgiving Day Dinner at Wally's Desert Turtle in Rancho Mirage. Our delicious… View details…
Copley's on Palm Canyon in Palm Springs
Copley's extends a invitation to enjoy their Thanksgiving Menu  Starting at 3pm on Thursday, November 24, 2011
Jillians on El Paseo in Palm Desert
You and your family are cordially invited to enjoy your Thanksgiving at Jillians in Palm Desert Thanksgiving Menu, Thursday, November 24, dinner is $60.00 Per Person – 20. Gratuity. Reservations call 760-776-8242
Le  Vallauris is serving an amazing Thanksgiving Menu including appetizer, main course and dessert, on Thursday, November 24, 2011. Price: $58 per person plus tax and Gratuity and $26 per child under 12 years of age plus tax and gratuity
Melvyns Restaurant at The Ingleside Inn in Palm Springs
Thanksgiving Dinner will be served at Melvyn's Restaurant in Palm Springs at the Inglesde Inn: features include their Pumpkin Bisque with Cream Fraiche, California Greens and more specialities.
Pacifica Seafood on El Paseo in Palm Desert
Pacifica Seafood Restaurant, located at the Gardens on El Paso in Palm Desert invites you and your family to spend Thanksgiving Dinner this year. Choices include a $49 Prix Fixe Menu, a $39 Prix Fixe with turkey selection as entree and one choice per course.
Ruth's Chris Steak House in Palm Desert
Ruth's Chris is serving a Thanksgiving dinner with a traditional 3-course Turkey Dinner for $34.95 ($12 for children 12 & under).
The Circa 59 at Riviera Palm Springs
Circa 59at The Riviera Resort & Spa in Palm Springs is open and serving a delicious Thanksgiving dinner
The IW Club is featuring two fantastic options for Thanksgiving Dinner this year. Our guests have their choice of dining here at the restaurant or taking one of our delicious chef prepared "To Go" dinners back home to enjoy in the comforts of home.
Thanksgiving – Thursday, Nov. 24 * Thanksgiving Brunch Buffet: Held in La Quinta's Fiesta Ballroom, this celebration prepared by Resort Executive Chef Stephen Strickland and his team offers something for everyone, in an elegant setting for groups large and small. Enjoy a sumptuous selection of soups, salads and raw bar selections; Roasted Tom Turkey and Garlic-studded Bone-in Prime Rib from the carving station; Jumbo Lump Crab Cakes, Seared Halibut and Lamb Chops; plus traditional sides and desserts, including Pumpkin Pie, Sweet Potato-Ginger Crème Brûlée, Granny Smith Apple Tart and an Ice Cream and Sundae Bar. Served from 1 to 4 pm. Price is $75 per person, includes California sparkling wine with meal ($45 for kids ages 13-18, free from the kids' menu for ages 12 and under).
The First Baptist Church in Palm Springs
This year Thanksgiving dinner will be served at the First Baptist Church,  588 Rosa Parks Blvd., Palm Springs from 11:00 a.m. – 2:00 p.m.   Shuttle service will be provided within Palm Springs.  The event is free to the public and encourages people home alone, people in need, and the homeless to attend.  Call (760) 327-8577 for more information.
Three Sixty North Lounge & Restaurant in Palm Springs
Three sixty North Lounge & Restaurant in downtown Palm Springs is offering a 3-Course Prix Fixe Menu starting at $25.  per person for Thanksgiving Day, November 24, 2011.  Service will begin at 2:00 pm. Please join us and celebrate your Thanksgiving Holiday.  For reservations please call 760-327-1773
Trio's Restaurant in Palm Springs
With Thanksgiving Day Service beginning at 12:00 noon, Trio's Restaurant will be providing a Traditional Thanksgiving Day Dinner for you and the entire family!Enjoy a 3-course delectable Traditional Thanksgiving Day Dinner for $35. Per Person plus for $15. Tthere will also be unlimited house wine or champagne service as well. Call Trio's Restaurant today at 760-864-8746 and make your Thanksgiving Day Reservation Cost is $35 Per Person (3-courses) plus 15 Unlimited Wine or Champagne. 760-864-8746