Pacifica Seafood Restaurant in Palm Desert
Found in Fine Dining, Seafood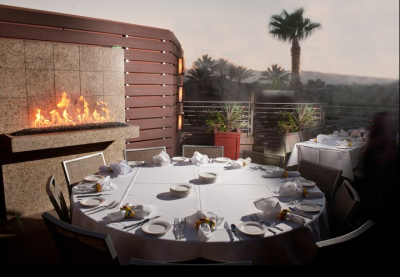 Pacifica Seafood Restaurant in Palm Desert is your ideal choice for fine seafood dining. With a "one of a kind" Vodka bar, an outdoor patio with an amazing view, and a relaxed atmosphere to dine in, the restaurant is quite popular among seafood lovers throughout the Coachella Valley.
Favorite dishes include chilled poached prawns, the Chilean sea bass, the BBQ spice salmon, and the Maine lobster.
The International Vodka Bar at Pacifica is the only of its kind in the entire Coachella Valley. It proudly serves over 130 premium vodkas. For the last 12 years, Pacifica has been expanding its incomparable selection to include vodkas from more than twenty countries and six states. The shelves are brightly filled with labels from Finland, Sweden, Belgium, Canada, the Ukraine, and Austria.
The ambiance at Pacifica has a casual-cool vibe to it. The staff is friendly, attentive, intelligent, and well-informed. The seafood is the freshest in the desert. Add the views from the patio and it all adds up to one of the top choices for dinner whether you live in town or are visiting from far away.
www.pacificaseafoodrestaurant.com
73505 El Paseo
Palm Desert, CA 92260
(760) 674-8666
Reviews:
Pacifica Seafood Restaurant
256 reviews
Facebook:
http://www.facebook.com/PacificaSeafood
Map: