Colin Fisher Studios
Found in Art Galleries, Shopping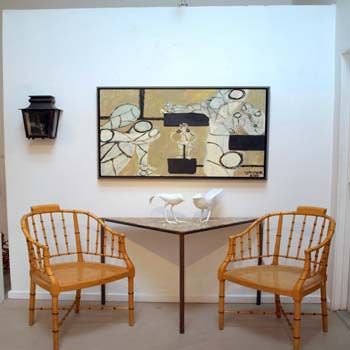 Colin Fisher Studios is an art gallery, warehouse, and loft space in Cathedral City, CA. This non traditional art gallery contains an amazing fine art collection which consists of paintings, sculpture, and works on paper by listed, emerging and Outsider artists.
Colin Fisher Studios is a 1stdibs gallery for Modern Paintings, Sculpture, Antiques and Objects, the most beautiful things on Earth. 1stdibs is the world's most searched market place for antique and mid century modern furniture. Colin Fisher Studios is the America's best dealers all in one place. Together with the art, vignettes are created with furniture antiques, modern and vintage objects, all for sale and arranged like the inside of a home or designer's showcase.
Colin Fisher Studios established by Colin Fisher, who began collecting art and antiques at the young age of 18 and for a lifetime amassed a collection that includes nine warehouses of treasures and a showroom in Cathedral City to showcase it. The collection changes frequently and every time you visit the gallery you are bound to experience something completely different.
Colin Fisher Studios located off of Hwy. 111 and Date Palm Drive on Perez Rd. just 7 miles east of downtown Palm Springs. Colin Fisher Studios designed like the inside of a showcase home, it is unique, and handsomely filled with paintings, sculpture (bronze, stone and wood). Colin Fisher Studios follow American and European objects of art. Contemporary and traditional lithographs, oils, and works on paper by listed artists, outsider and folk art and Antique Asian and African artifacts.
Colin Fisher Studios open schedule to the public and the trade:
Hours Wednesday to  Sunday 11:00AM to 5:00PM (During the Summer we are also closed Monday thru Wednesday) Otherwise trade by appointment.

www.colinfisherstudios.com
68929 Perez Rd. Ste. M
Cathedral City, CA 92234
(760) 324-7300
Facebook:
http://www.facebook.com/colinfisherstudios
Map: